Join this FREE live teleseminar with Arielle Ford!
Success Secrets: Creating Your Dream Career As An Author/Speaker
When:
Wednessday, February 29, 2012
5:00 – 6:00pm PT / 8:00 – 9:00pm ET

Ever wonder how author/speakers earn seven figures doing what they love? The fact is, anyone can get there… IF you know the in's and out's of the industry, the secrets to success in today's fast-changing publishing and speaking industry.
Come join Arielle Ford as she interviews Lisa Nichols, bestselling NYT author, esteemed success coach, featured teacher in "The Secret" and extremely successful speaker. Lisa is a lot more than the "Law of Attraction" lady, she's built a highly successful writing and speaking business from the ground up.
In this telesemar, she's going to show you exactly how to create the live you've dreamed of living, and create the career you've dreamed of having.
Come find out exactly how you can do what Lisa has managed to accomplished in the past few years:
Secure a multiple 7-figure Chicken Soup for the Soul deal
Write a bestselling book (like Lisa's blockbuster success "No Matter What!")
Be a featured guest on top shows and networks, including CNN, Oprah and others
Become one of the world's highest paid speakers
Grow your business by 250%!
Of course, it took a lot more than the "Law of Attraction" for Lisa Nichols to accomplish all of this.
It took action-not just any action, but specific actions.
It took dedication-not blind dedication, but specific, targeted dedication.
And like so many aspiring author/speakers, I'd bet you'd be happy to follow in Lisa's footsteps… if only you knew what they were.
In this teleseminar, Lisa will share her path, and reveal valuable tips on how you can achieve her blockbuster success for yourself.
In this FREE live webinar, Arielle Ford will interview: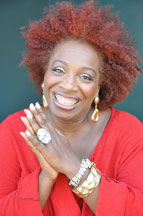 Lisa Nichols
Lisa Nichols is a best-selling author, a popular public speaker, a powerful coach, and a charismatic teacher!
Lisa Nichols has reached millions, both nationally and internationally with her powerful message of empowerment, service, excellence & gratitude..
Her participation in the self-development phenomenon, The Secret, catapulted her popularity across the globe. Lisa has appeared on the "Oprah Winfrey Show," "Extra," "Larry King Live" and on NBC's Emmy Award-winning show, "Starting Over." Her new book, No Matter What! hit 6 bestseller lists, including the New York Times, in the first 37 days of being released and has already been sold in 20 foreign languages. Lisa has been coined "The Breakthrough Specialist" by her peers in the industry.
Lisa has been honored with many awards in recognition for her empowering work, including the Humanitarian Award from South Africa, the Ambassador of Good Will Award, Emotional literacy award, The Legoland Foundation's Heart of Learning Award. The Mayor of Henderson, Nevada has proclaimed November 20th as Motivating the Teen Spirit Day. And recently the Mayor of Houston, Texas proclaimed May 9th as Lisa Nichols day for her dedication to service, philanthropy and healing.
Lisa is a dynamic speaker with an extraordinary story and a tremendous ability to touch people's hearts and souls. She is a master at accomplishing unfathomable goals and teaching others to do the same. Lisa Nichols has transformed her life from struggling single mom to a motivational millionaire entrepreneur, and she has dedicated her life to teaching others how to do the same.