New product… new web site…
stellar new results!
Watch this video to find out how to grow your business (and your list) with
our newly updated content!
Next Steps to Take:
Sign up here as an affiliate if you aren't one already OR Click here to login to your affiliate account.
Mail the swipe copy we give you (it's pre-written and works!)
And in 30 days, we'll start mailing affiliate checks to you or paying you via Paypal!
It's that easy - and we do all the work for you!
Once you login, you can grab the swipe copy and emails to send your list.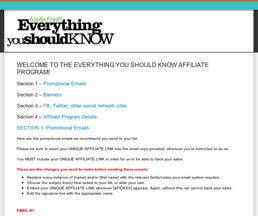 Over time, we will be running different campaigns that send your list to different pages. Here are some of the pages you can promote:
"How to Start Writing a Book" special offer
"How to Get Started: Everything You Should Know about Publishing, Publicity, Promotion & Platform Building" video
The Everything You Should Know sales page
"Bestseller Author Blueprint video" bonuses opt-in (on sales page)
If you have any questions, send an email to Wyndham Wood at [email protected]