Join this FREE live teleseminar with Arielle Ford!
Transformational Authorship: Discover How YOUR Book Can Impact the World (Really!)
When:
Tuesday, May 8, 2012
5:00 – 6:00pm PT / 8:00 – 9:00pm ET

Ready To Share Your Message With The World?
Come join Arielle Ford as she interviews Christine Kloser, spiritual leader, award-winning author, and transformational book coach
During this FREE telesemar, Christine Kloser will share:
How to put an end to procrastination in writing, publishing or marketing your book
The most important 250-words you'll ever write
The little known secret, used by authors like Gay Hendricks and Sonia Choquette, that will be a never-ending source of fuel for your book's success
How to quiet the voices that hold you back from your living your biggest dreams as an author
How to master the four levels of transformational authorship
The key to making an impact far beyond the words you write
and more!
In this FREE live teleseminar, Arielle Ford will interview: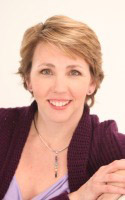 Christine Kloser
Christine Kloser is a spiritual guide, award-winning author, and transformational book coach whose spot-on guidance transforms the lives of visionary entrepreneurs and authors around the world. She's fast become the leader of the Transformational Author Movement which launched worldwide during the Transformational Author Experience® and Writing Contest in May 2011, sponsored by Hay House's Balboa Press and New World Library. Her work is endorsed by some of today's leading transformational authors, including: Neale Donald Walsch, Sonia Choquette, Gay Hendricks, and many more.
In addition to writing books, Christine authored the award-winning Get Your Book Done® program. This course is delivered through ChristineKloserUniversity.com, where authors across the globe gather to learn how to turn their book idea into reality. Christine has been featured in the Los Angeles Times, Entrepreneur Magazine, Atlanta Constitution-Journal, Leadership Excellence, FOX News, Forbes.com, and Entrepreneur.com, and is a regular columnist for PUBLISHED! Magazine. Her books and publications have received numerous awards including the Nautilus Book Silver Award, Pinnacle Book Award, National Best Books Award, and the Apex Award for Publication Excellence.