From: Arielle Ford, La Jolla, California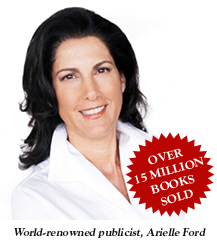 Dear author (or future author),


I'm going to let you in on another piece of research my partner, Mike Koenigs, and I conducted. In one of our surveys, over 90% of our participants say it's crucial that they publish a book someday. Over 90%!

An article in the March 2005 issue of USA Today reported, "82% of all Americans want to write a book someday"

The facts are the facts. Most writers need a jump start. They have what it takes to write, but they need a jumpstart.

This is why we created a brand-new course,
"How to Start Writing A Book: Top Publishers and Bestselling Authors Reveal Their Secret Systems."

If you're one of the many who don't know where to begin or how to start writing your book, or if you've started and stopped but can't seem to build the momentum and stick to a writing schedule, keep reading.

I've personally written six books and worked with some of the most prolific, successful and famous, authors in the world including:
Deepak Chopra
Wayne Dyer
Neale Donald Walsch
Dean Ornish
Jon Gordon
Debbie Ford
Gary Zukav
Louise Hay
Jack Canfield
Mark Victor Hansen
and many, many others
Luckily, I have the good fortune of being able to call them up and ask them what they're secrets and techniques are (and they do take my calls!).
The goal was to create an easy to follow guide that starts at "square one" and helps the first-time author who knows there's a book inside them that needs to be written, but doesn't know how or where to begin.
I also wanted to provide useful insights, tips and tricks for an experienced, accomplished author that wants to take their writing skills to the next level.
I interviewed authors and asked them about their process, inspiration, discipline and resources they use to start and keep writing. Aside from perspiration and hard work, I uncovered the patterns and mindset bestsellers use to stay motivated and productive.
This is the same system many of the famous authors mentioned above use to write their own books.
In 55 minutes, I'll give you my "brain dump" from the conversations and research from my "inner circle" of bestselling authors in an audio recording and a 33-page guide.
But don't let the brevity fool you. Inside the guide, you'll get 24 bestseller tips, strategies and techniques and 59 different questions answered about how to start writing your book.

Here's A Summary of What You'll Learn
in this Easy Course
How to plan and find the time to write a book
The importance of a mission statement to figure out the content of your book
Strategies for finding a topic to write about
The importance of a timetable and sticking to it
Tips on finding a place to write
How a "consequence system" can help you stay on schedule
The value of a network of friends or a writer's group
How to keep negative people out of your process
The importance of quality feedback and constructive criticism
The importance of writing everyday
Having something fresh to write about
How many revisions should you expect to make?
What is a reasonable timetable for writing a book?
What if an amazing spiritual, mystical voice "speaks to you"?
Is there ever a perfect time to write a book?
Getting over writer's block
The importance of the mind body connection when writing
Writer's psychology tips
How to leverage deadlines as motivators
Strategies for the cerebral and emotional "personalities"
How to find someone to transcribe a conversation or interview
How understanding the publishing industry can help you write
Strategies for finding your "author's voice"
A powerful, almost free technique that will help you create content quickly and easily for your book
Here are 26 of the 59 Questions Answered
In this 55 Minute Recording and 33 page eBook...
What are the three steps to writing a book every author should follow?
What is the first thing a person should do when they decide to write a book?
How do you create a positive writing environment?
Should I write in one place?
How can I write if I have kids?
What techniques do authors with kids use to stay focused and write?
What do bestselling authors do to schedule their writing process?
How many pages a week does Peter Guzzardi, an editor at Random House, suggest an author write in three-quarters of a year?
What is an effective technique to use to being held accountable to a writing schedule?
What type of people should you use to solicit feedback?
What type of people should you avoid for feedback?
Why is the choice of topic in your book so important?
How many times has every bestselling author that Arielle has talked to re-written their books?
What are some of the most powerful techniques for becoming a well-versed expert in your subject matter?
How do you establish credibility as an author?
What are "the five passes" according to Liz Perle?
What does Arielle suggest for overcoming writer's block?
What is a Mastermind group and how can you leverage one to write your book?
How do you overcome the fear of writing?
What are the two "modes of thinking" and how knowing what you are change the way you approach writing your book?
What is the "modality technique"?
Why is a writing technique important?
How will public speaking affect the way you write your book?
How do you leverage freelance and ghost writers?
How does one find their voice as a writer?
How can I get committed to my writing process?
You can be reading the eBook and and listening to the recorded lessons in less than five minutes.
This course is available both as a digital download and a physical product (if you prefer a CD and box).
The digital version of the course comes as MP3 file you can listen to on your computer, put on your iPod (or other digital device) or burn your own audio CD.
If you don't know what all this means, don't worry. Detailed instructions on what to do get e-mailed to you as soon as you place your order. My partner, Mike, is a technical genius who speaks plain English for people like me (I'm not a technical wiz). Even I listened to the recording!
If you want to get started writing your book, place your order now (you get it free!). You'll be reading and listening to this course in minutes.
Sincerely,



Arielle Ford
America's #1 Book Publicist and Founder of www.EverythingYouShouldKnow.com