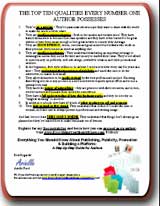 Thank You for Taking the Survey!
The free special report, "THE TOP TEN QUALITIES EVERY NUMBER ONE AUTHOR POSSESSES" can be downloaded by clicking on this link.
Thank you for your input and feedback,
Arielle
(If you haven't signed up for my newsletter, do it now! The next issue is going to be awesome! And don't worry, I HATE SPAM and will never share your e-mail address with anyone, ever.)
Please take a moment to make the next issue of my newsletter is relevant to you:
I'd like you to make the next issue of my newsletter relevant for your specific goals. Please take a moment to ask any single question about publicity, promotion, publishing, writing a book or building a platform that you want to learn more about.
If you've already sent in a question, feel free to provide another one.
Please keep your question clear and to the point! No comments please, questions only!
P.S. Please take a moment to join our Affiliate Program and start generating passive income today! It takes less than 30-second. I'll pay you $75 for every copy of my package that you sell. There's no charge to join and I give you all the tools you need to succeed!
P.P.S. I'd really appreciate it if you took a couple of seconds to Tell a Friend about this site too!
---
Affiliate Sign Up | Affiliate Login | Tell a Friend about this site | Contact Us | Mailing List
Warranties, Disclaimers & Legal Rights | Terms of Service | Privacy Policy
---
© 2005 KickStartMedia.com
15721 Bernardo Heights Parkway
Suite B-454
San Diego, CA 92128-3176
800-795-5417